Company List for Oil value Lubricants | Page : 14

Description:
The ECOTEC Group designs, manufactures and markets professional treatments and consumables for the maintenance of cars, trucks and machines used in the industry field, agriculture, marine. ECOTEC proposes : 125 products packaged from 10 g to 210 L, 3 complete ranges: • Light Vehicles • Heavy Engines • Car Care ECOTEC is in constant innovation, evolution and new products in accordance to the needs of customers and to regulatory constraints. The product range is based on three major axes: 1. Treatments of fuel and other internal circuits of the vehicles 2. Treatments of the air conditioning systems 3. Car care. ECOTEC has developed a network of distributors in Europe, South America, Africa and our efficiency is recognize and referenced by Hyundai, Isuzu, Toyota, Kia, Nissan, Mitsubishi, SsangYong, Lexus, Subaru, Omni Plus, Santana. ECOTEC is the specialist of additives for petrol and diesel tank of light engines, heavy engines, storage fuel tank treatments (decontamination and anti-diesel bacteria) : • ECOTEC additive for petrol effect : Detergents, Lubricants, Stabilizers, Anti-corrosives, Compatible with E10, Preserve original engine performance and characteristics, Reduce pollution, Avoid excessive fuel consumption, Increase engine's life, octane booster • ECOTEC additive for diesel effect : Detergents, De-emulsifiers, Lubricants, Stabilizers, Anti-corrosives, cetane booster, Clean and protect the injection system against various, sources of seizures (clogging, corrosion, carbon deposits), Avoid excessive fouling of variable geometry turbos, combustion chambers and pollution control systems, (EGR, particulate filters), Decrease diesel fuel consumption, Increase the service life of engines. Decontaminant and bacteria killer product for tank, bulk tank, storage tank. Also, ECOTEC is the specialist of consumables for professional and developed a large range of products like : A/C treatment (antibacterial, moisture killer, car cosmetic (polish, interior cleaning and exterior cleaning, car shampoo, water repellant), oil engine treatments (stop leak, oil engine flush), oil treatments (treatment for gear box and transfer box, oil leak stop for transmission and power steering), cooling circuit treatments (radiator leak stop, cooling system flush, cooling system oil emulsifier) cleaning of diesel particulate filter (DFP cleaning dismantling and without dismantling), technical treatments (soot cleaner), technical sprays, cleaning, deodorizing, car shampoo, water repellant and cleaning accessories.
Product Details:
FUEL-OILS-CAR CARE TREATMENTS
Website :
Inquire
Gulersan Lubrication Equipment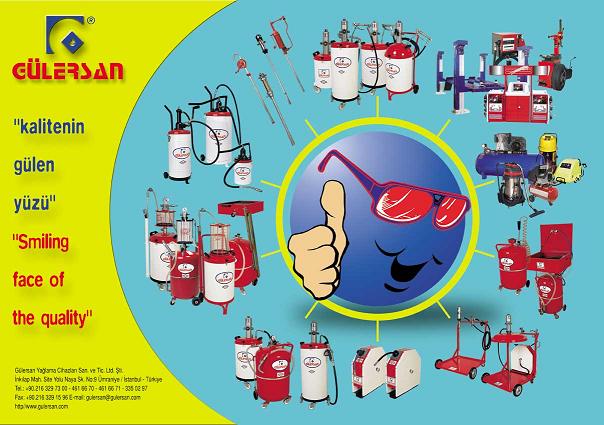 Description:
GULERSAN Lubrication Equipment Industry and Trade Co. Ltd., which was established in year 1983 by Servet GÜLER, having still performed the presidency of management board of our company, within its facilities of 2000 m2 area focused on automotive, construction and liquid fuel sector produces the air and mechanic fine oil pumps, hose reels, oil evacuation system and pumps for absorbing oil from the crankcase. The products that we produce are submitted to the service of the user by means of our dealers across Turkey within our service guarantee. GULERSAN gives 40% of its current production force to all through Turkey and its 60% part is exported to various countries. In the production of the products that we present to the automotive sector which is rapidly advancing, in addition to the quality and use easiness, the time saving from the perspective of the user is also considered. GULERSAN, taking the customer satisfaction as its principle, is attempting to keep its product quality and wide product range at the highest level by improving them by each passing day. The pleasure caused by the added value brought by our firm, which is among the pioneer institutions in the sector by means of Research and Development and technical equipment, to the country economy is our biggest source of inspiration. With our best regards.
Product Details:
lubrication equipment,garage equipment,cleaning equipment
Telephone:
00902166344814
Website :
Inquire

Description:
Operation only for business! All smartphones including iPhone X max has started from 90$ CLICK HERE ---> https://bit.ly/2Qs4T7k
Product Details:
Francespet
Website :
Inquire
Information, Buyers, Sellers, Distributers & Dealers Directory for the Automotive, Accessories and Spare Parts Industries