South Africa's Automotive Industry Looks at Opportunities in West Africa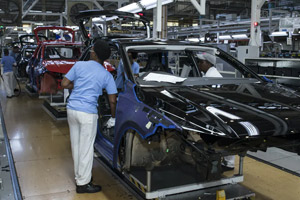 South Africa is entering the Ghanaian and other West African aftermarkets for automobiles.This comes after Supreme Spring, a subsidiary of Metair, a JSE-listed firm, and Springs and Bolts Company Limited Ghana signed a ground-breaking memorandum of understanding (MOU).
The signing was applauded by the African Association of Automobile Manufacturers (AAAM).
Supreme Spring is a local and multinational company that designs, manufactures, markets, and supplies quality heat-treated steel components such as leaf and coil springs, torsion and stabiliser bars.
Leaf springs, U bolts, trailer axles, and suspensions are all manufactured by Springs and Bolts.
"We believe that this MOU is the start of a mutually beneficial partnership that will enable both parties to expand their businesses," says Mark Barley, Managing Director of Supreme Spring. "With Supreme Spring sharing technical knowledge and providing key skill training, Springs and Bolts Company Limited will open new markets for Supreme Spring in West Africa," says Mark Barley.
"During our recent visit to Ghana, it became clear that the Ghanaian government is committed to transforming Ghana into a West African automotive hub, and we want to be a part of that development by partnering with a local company," Barley adds.
In the second half of this year, component suppliers will return to Ghana for a second exploratory visit.
"Seeing this MOU signed as the first tangible result of our product supplier visit to Ghana in March is gratifying for AAAM as we continue to aggressively push our vision to grow a viable automotive industry for Africa," says AAAM CEO David Coffey.
Posted on : 09 Dec,2023 | News Source : ABNews
Automart is Africa's leading directory and market news website for the automotive spare parts, automobiles and auto accessories industry | Kenya | Tanzania | Ethiopia