The Automotive Sector in Africa is Booming, Incorporating Wide Range of Trades and Skills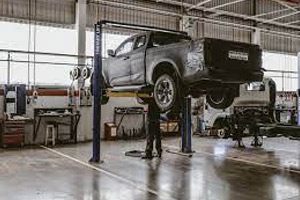 As well as having a thriving port, this part of South Africa is also home to Isuzu, known for its iconic pick-up trucks. Billy Tom, CEO and Managing Director, Isuzu Motors South Africa, describes how the automotive industry can grow across the continent: "You can't just treat Africa as one country. You've got to look at the economic clusters. You've got SADC (Southern African Development Community) where South Africa operates, you've got East Africa, you've got West Africa. Your approach needs to be by economic cluster, where you go into the economic cluster, do a lot of developmental work, and then grow your scale."
Tom is the first black person to hold this executive role within the company. He speaks about what this means to him: "Being the first Black CEO, you become the poster child for this. But what poster child do you want to be? Because you also want to create and position yourself so that people become more aspirational in moving and fulfilling the roles going forward."
Another global player that has a long-standing relationship with Africa is Toyota. The company first arrived in South Africa in the early 1960s, and its presence on the continent has increased ever since. Andrew Kirby, the CEO and President of Toyota South Africa, describes how the company has coped during the coronavirus pandemic: "We saw a big drop in 2020 because of the pandemic and then a nice big increase. So, we'll this year produce more than we did in 2019. And we're seeing some moderate growths. Our biggest volume is into Europe. So that's by far our biggest volume of exports, and we see good opportunities for growth there, as well."
Kirby explains that the manufacturing and assembly processes use locally-sourced products, including sheet metal for the chassis and steel for the body: "The majority of the parts in this vehicle are all procured here in South Africa. So, it's a massive economic value proposition by sourcing all of these parts from local suppliers."
While Volkswagen has been in South Africa for the last 70 years, the programme joins Serge Kamuhinda, CEO, Volkswagen Mobility Solutions, in the company's 'test kitchen' in Rwanda to see how electric vehicles are being trialled on the continent.
Still in its infancy, Volkswagen's fleet of electric cars in Rwanda is small. But Kamuhinda believes that when the company and the country came together it was a perfect meeting of minds: "Rwanda being a country that is forward-looking, wanting to be a test for Africa, a country where you can do a test for business models that can be rolled out across Africa, and Volkswagen being an innovative company wanting to shape the future of mobility. So, when these two strategic minds met, there was really a joint vision."
Posted on : 09 Dec,2023 | News Source : ABNews
Automart is Africa's leading directory and market news website for the automotive spare parts, automobiles and auto accessories industry | Kenya | Tanzania | Ethiopia