American EV start-up Rivian partners with Kenya's MWCT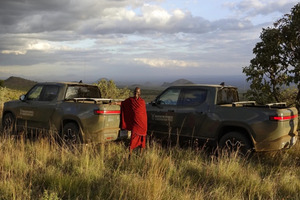 Rivian is collaborating with the Massai Wilderness Conservation Trust (MWCT) on a trial project involving four R1T all-electric vehicles in Kenya's Chyulu Hills.
According to the organization's news release, the relationship brings it, the Maasai community, and Rivian's help in assisting the administration of its protected environment and community lands throughout South-Eastern Kenya.
The EVs allow MWCT to continue its conservation efforts in the most effective and ecologically beneficial manner possible. This includes low-noise anti-poaching patrols, zero-emissions transportation for Maasai firemen, and crucial on- and off-road ranger activities. It also includes initiatives for health and education.
In the following months, the two partners intend to include Rivian's new electric SUV, the R1s, as well as Rivian's charging infrastructure, into the conservation's continuing operations. The Maasai Wilderness Conservation Trust's Founder and Executive Director, Luca Belpietro, gave his opinions on the partnership with Rivian.
"This collaboration with Rivian excites us enormously, given their ardent emphasis on addressing our planet's climate calamity and protecting critical species. Rivian's assistance for MWCT is already assisting us in carrying out our conservation, education, health, and livelihood efforts here in Kenya."
"The R1T is the ideal vehicle for us, with zero tailpipe emissions and crucial features like electric plugs in the car, allowing us to plug our equipment straight into the vehicle without the need for an additional power source. We are honoured to have Rivian as a partner in achieving meaningful sustainability and providing community services with little environmental effect."
Anisa Costa, Rivian's Chief Sustainability Officer, elaborated on what this cooperation meant for the manufacturer.
"Few places in the world better exemplify what is at peril than those under the Maasai Wilderness Conservation Trust's stewardship. Rivian thinks that individuals, businesses, and whole industries must collaborate to help safeguard our natural environment for future generations," Costa explained.
"This partnership with the Maasai people aims to broaden our collective effect by taking unusual measures—even before we export a single car to investigate the special possibilities for locally based social and environmental transformation that our trucks and SUVs may provide. We are thrilled to be able to use our new capabilities and resources to safeguard some of Africa's most iconic and significant land, animals, and culture."
Posted on : 05 Dec,2023 | News Source : ABNews
Automart is Africa's leading directory and market news website for the automotive spare parts, automobiles and auto accessories industry | Kenya | Tanzania | Ethiopia