Rwanda Innovation Fund to invest in MAX.ng's electric vehicles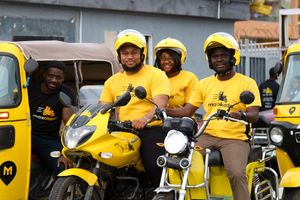 The Rwanda Innovation Fund (RIF) is investing in Metro Africa Xpress (MAX.ng), a platform located in Lagos, Nigeria that links individuals with African motorbike cab drivers. The RIF, which is managed by Angaza Capital, invests in firms devoted to sustainable development on the continent through smart and sustainable technology such as MAX.ng.
The shift to electric vehicles is facilitated by MAX through charging stations and battery switching stations, according to Angaza Capital President Angela Homsi. Through convenient payment options, drivers on this platform have access to zero-emission electric automobiles.
According to the 2015-founded start-up Max.ng, 50% of passengers experience dangerous and unpredictable transport because of the underserved, excluded, and uninsured 14 million commercial drivers in Africa.
"In addition to its socioeconomic impact, the sector has a significant influence on environmental concerns, since the two- and three-wheelers used by commercial drivers are extremely polluting and account for a significant portion of the continent's expanding greenhouse gas (GHG) emissions," she notes.
The Nigerian start-up secured $7 million in 2019 from Nairobi and Lagos-based venture capital company Novastar Ventures and Japanese motorbike equipment maker Yamaha Motor to market its electric bikes in ten West African nations, including Togo.
Three years later, RIF's unspecified investment in the start-up Max.ng will aid in the expansion of e-mobility solutions in East Africa. In terms of green transportation, the sub-region is displaying some dynamism.
Rwanda's government, for example, has set a target of lowering carbon dioxide (CO2) emissions by 38% by 2030. The transportation and logistics industries' contributions are critical.
Posted on : 26 Mar,2023 | News Source : ABNews
Automart is Africa's leading directory and market news website for the automotive spare parts, automobiles and auto accessories industry | Kenya | Tanzania | Ethiopia