Autoexpo Kenya showcasing automotive equipment from around the world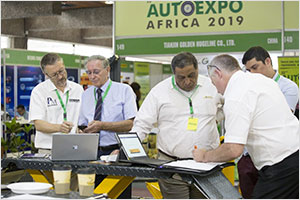 "The 23rd AUTOEXPO KENYA 2022" comes back to Nairobi this week opening with the widest range of products, equipment and machinery for the automotive spareparts and accessories sector. The trade fair will be held from the 19th to the 21st of May, at the Kenyatta International Convention Center in Nairobi and will be open for visiting from 10:00 AM to 6:00 PM during the exhibition days. This year the event runs concurrently with Oil & Gas Expo, Solar Expo, Indusmach (Tools and Hardware Expo) and Power & Energy Expo.

Apart from Kenyan suppliers, exhibitors from 30 countries will have products on display.
The exhibition is set to showcase tools, machinery and products like Auto Spare Parts, Tyres & Batteries, Lubricants Garage Equipment, Traffic Safety and Signage Products, Fuel Station Products, Automotive Tools, Service Station Products, Car Accessories, Car Care and Security Products, Car Loans/Finance, Electric/Hybrid Vehicles and more.
Leading companies and brands include names like Lumag, El- Mohandes For Trading, Gould Automotive, Mobikey MAN Truck & Bus, Vega Auto Accessories Pvt Ltd, SBT Japan Ltd, Central Automotive Products Ltd, United Grease & Lubricants Co. L.L.C, Sona Mandhira Pvt. Ltd, AS-PL, ATS ELGI Limited, Eurodiesel Services LLC, Naoki Automotive Systems LLC, Rowe SA, Ymg - Efemmak MEA, Mobiletron Electronics Co., Ltd. and many more
The exhibition is supported by the local automotive industry and trade bodies.
For more information about this event, please visit: https://expogr.com/kenyaauto/
Posted on : 28 May,2023 | News Source : ABNews
Automart is Africa's leading directory and market news website for the automotive spare parts, automobiles and auto accessories industry | Kenya | Tanzania | Ethiopia